What is an inlay?
Inlays are indirect fillings applied in back teeth (premolars, molars). After removal of the old, defect filling or caries, an impression is made of the cavity (that is the drilled out defect). A filling is then made in the laboratory from gold or ceramic, which fits the cavity with the utmost precision and restores the original form of the tooth. In the second session, the inlay is cemented into place. Large inlays which cover the cusps are referred to as onlays.
For many years, gold inlays have been the tried and tested solution and have a long lifespan. Today, aesthetic awareness has led to a decline in their use.
WHAT ARE THE ADVANTAGES OF CERAMIC INLAYS?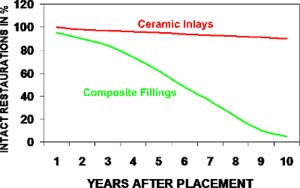 Ceramic inlays have no metal core and are therefore translucent. They are bonded to the tooth using a special adhesive method, leaving no marginal gaps. A chemical bond is created between tooth and ceramic, restoring weakened teeth to their original strength. The high translucency yields an exceptional aesthetic quality.
Ceramic is exceedingly biocompatible. For example, allergies such as to certain alloys are unknown.
Ceramic inlays are long-lasting. The following diagram shows the longevity comparison between composite fillings and ceramic inlays.
Can all teeth be fitted with ceramic inlays?
In principle, all back teeth (molars and premolars) can be fitted with porcelain inlays. Front teeth (incisors and canines), on the other hand, are treated with composites. Only in cases where the defect (caries or filling) reaches deep under the gum, or where the remaining tooth substance is weak and brittle (for example root-canal-treated teeth), is a crown the better and lasting alternative.